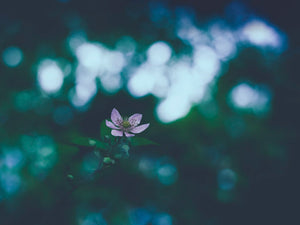 Bramble Rose - Fine Art Print
Regular price £70.00 Sale
During the pandemic £10 from every print will go to charity.
The current charity is NHS Charities Together. 
This print is available as a striking large canvas or a fine art Giclée print.  
Giclée colourfast print is on gorgeous archival Hahnemuhle Etching textured paper. 
Giclée prints are signed & numbered and come with a 1cm unprinted border for ease of framing. Canvases are signed on the reverse.  
As well as being a photographic story teller, I'm a writer. So each print comes with the following story, printed on A5 Fuji Matt paper with colourfast inks. 
Bramble Rose
We have a love-hate relationship with perhaps the most common member of the rose family in the U.K., the bramble. 
It can be invasive in our gardens, draw blood at the slightest brush, tear the most durable country clothing, and yet...
The flowers are a delicate, pink star in the gloom of woodland or hedgerow in early summer, and in autumn our lips, fingers and clothing are stained red and purple with blackberry juice.
They aren't true berries, but a kind of aggregate fruit, with each blob of juiciness surrounding a tiny, tooth-crackling seed. 
But it is wildlife that benefits most from this despicable and delicious rose. Many small creatures feast on the fruit, particularly dormice. And the impenetrable bramble thickets protect nesting birds, as well as deer-tempting young tree seedlings.⠀
Come autumn, bramble and bramley apple pie will steam contentedly on many a family table after a Sunday roast. 
Equally good is hot blackberry sauce poured over good vanilla ice cream, with a brief sprinkle of demerera sugar.
But for now, appreciate the pale stellar flowers, and the bees that love them even more than we.
Photographed by Charlie Budd
in the late afternoon in Oversley Woods, Warwickshire