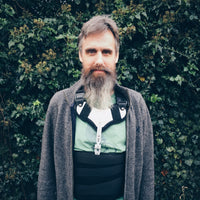 The Story
What's all this about then?
Everything I do is about connection - connection to the natural world, connection with you - dear reader, and the connection we find within ourselves.
And photography, for me, is all about connection.
I've been taking photographs since getting my first camera at the age of 8.
I dipped in and out of selling prints from my teenage years through my very varied career which has included being a wildlife conservationist, local government employee, pot washer, sofa bed maker, decorator, care worker, and humanitarian worker.
On 31st October 2017 I fell from scaffolding and broke my back. Thanks to our wonderful NHS, I was put back together with screws, rods and lashings of care.
I'm constantly grateful to friends and family who have been so supportive, especially My Darling Jules.
Following my accident I turned to my 30 year smouldering passion for photography to earn a living.
I'm now a commercial video producer and photographer, but I am drawn to the outdoors and I also love creating whimsical and impressionist or abstract images via a camera - particularly of the natural world.
The best way to appreciate these photographs, I've found, is to order from this carefully curated selection of limited edition fine art prints - which would look utterly delicious on the wall of your home or workplace.
I tend to photograph how something makes me feel, as opposed to just what it looks like. I want you to feel something when you look at one of my photographs, not just think 'that looks nice, dear'.
Following feedback from several solo and mixed exhibitions I've held, I'm now also including a very short story or poem with every photograph. They all tell you about taking the photograph, if I can remember, and most are sprinkled with my eccentric sense of wit.
I hope you enjoy my somewhat whimsical and curious style. If so, you could make both yourself and me very happy by buying a print or two. They also make the most wonderful presents in case you know anyone with exquisite taste, which of course you do.
Thank you for reading this m'dear,
Charlie X
PS This is me in my sexy body brace, which I wore for three months after my accident. I know, I know, please form an orderly queue. And my beard is even more ridiculous now. C x