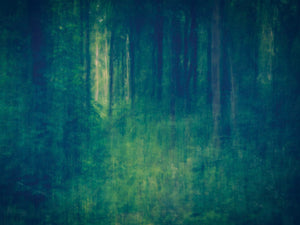 Come Hither - Fine Art Print
Regular price £70.00 Sale
During the pandemic £10 from every print will go to charity.
The current charity is NHS Charities Together. 
This print is available as a striking large canvas or a fine art Giclée print.  
Giclée colourfast print is on gorgeous archival Hahnemuhle Etching textured paper. 
Giclée prints are signed & numbered and come with a 1cm unprinted border for ease of framing. Canvases are signed on the reverse.  
As well as being a photographic story teller, I'm a writer. So each print comes with the following story, printed on A5 Fuji Matt paper with colourfast inks. 
Come Hither
On my way home from work,
Wellies donned,
Camera bag hoisted,
I'm in a hurry,
Dusk is approaching.
Ohh blackberries - photograph - munch.
Ooh, mushrooms - photograph - don't munch.
I espied a pale clearing in the deepening gloom.
'Come Hither' the woodland urged.
I complied.
I am most at home in woodland. One of my ancestors was a tree. I'm sure. I'm possibly a Tolkienian  ent - I'm frequently called Treebeard.
There is something intriguing about woodland, that makes me want to explore. It's often just a touch of light on a glade, or even on a leaf... just a bit further...
Photographed by Charlie Budd
at dusk in Oversley Woods, Warwickshire