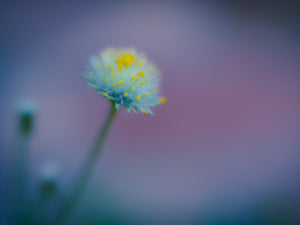 Gorgeous Groundsel - Fine Art Print
Regular price £70.00 Sale
During the pandemic £10 from every print will go to charity.
The current charity is NHS Charities Together. 
This print is available as a striking large canvas or a fine art Giclée print.  
Giclée colourfast print is on gorgeous archival Hahnemuhle Etching textured paper. 
Giclée prints are signed & numbered and come with a 1cm unprinted border for ease of framing. Canvases are signed on the reverse.  
As well as being a photographic story teller, I'm a writer. So each print comes with the following story, printed on A5 Fuji Matt paper with colourfast inks. 
Gorgeous Groundsel
"What do you mean I'm a weed?"

I'm ashamed to admit that I nearly pulled up this tiny delight. As I write, it's currently growing in the crack between the concrete of our studio car park and the brick wall of the studio loo. I know, hardly the most glamorous location.
I have to say this at a whisper, in case it hears, but groundsel is rather a scrappy native plant when viewed from standing height. It's straggly, with small, unremarkable flowers. But get down on your hands and knees with a magnifying lens in the early morning and it's a delicate and delightful explosion of white and yellow florets. 

I'm sorry groundsel, I misjudged you. You're a a gorgeous little marvel, and I appreciate your tiny wonder. 
Photographed by Charlie Budd
in Alderminster, Warwickshire