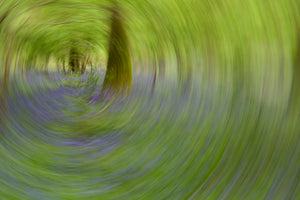 Bluebell Woodland Whizz - Fine Art Print
Regular price £70.00 Sale
During the pandemic £10 from every print will go to charity.
The current charity is NHS Charities Together. 
This print is available as a striking large canvas or a fine art Giclée print.  
Giclée colourfast print is on gorgeous archival Hahnemuhle Etching textured paper. 
Giclée prints are signed & numbered and come with a 1cm unprinted border for ease of framing. Canvases are signed on the reverse.  
As well as being a photographic story teller, I'm a writer. So each print comes with the following story, printed on A5 Fuji Matt paper with colourfast inks. 
Bluebell Woodland Whizz
Bluebell woods are one of my favourite places, and we're lucky to have many near where I live in Stratford upon Avon. 
Bluebells are typically only found in ancient woodland and are related to asparagus. Don't eat them though, they're poisonous.
This was taken in the nearby Oversley Woods. I kept the shutter open for about half a second and span the camera around, to get this swirling effect. 
I don't know about your, but I feel drawn into the woodland by the swirl. 
Photographed by Charlie Budd
in Oversley Woods, Warwickshire