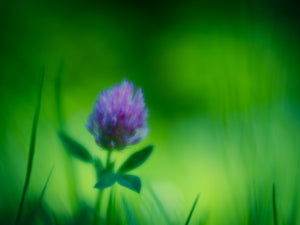 Dreaming Clover - Fine Art Print
Regular price £70.00 Sale
During the pandemic £10 from every print will go to charity.
The current charity is NHS Charities Together. 
This print is available as a striking large canvas or a fine art Giclée print.  
Giclée colourfast print is on gorgeous archival Hahnemuhle Etching textured paper. 
Giclée prints are signed & numbered and come with a 1cm unprinted border for ease of framing. Canvases are signed on the reverse.  
As well as being a photographic story teller, I'm a writer. So each print comes with the following story, printed on A5 Fuji Matt paper with colourfast inks. 
Dreaming Clover - Fine Art Print
There are few things sweeter than individual florets of clover plucked out and sucked for the nectar. Maybe I was a bumblebee in a previous life. 
The gorgeous purples of clover are the perfect contrast against the fresh, late spring green growth. 
Photographed with a Lensbaby Velvet lens giving a velvety softness to this photograph. It's not about the detail, it's about lying in the grass, dreaming away a May afternoon sucking on clover.  
Photographed by Charlie BuddOutside our studio on the Ascot Estate, Stratford upon Avon