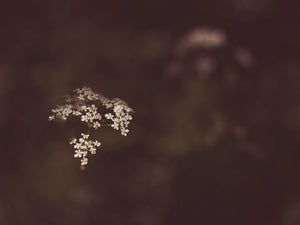 Fairy Parasol - Fine Art Print
Regular price £70.00 Sale
During the pandemic £10 from every print will go to charity.
The current charity is NHS Charities Together. 
This print is available as a striking large canvas or a fine art Giclée print.  
Giclée colourfast print is on gorgeous archival Hahnemuhle Etching textured paper. 
Giclée prints are signed & numbered and come with a 1cm unprinted border for ease of framing. Canvases are signed on the reverse.  
As well as being a photographic story teller, I'm a writer. So each print comes with the following story, printed on A5 Fuji Matt paper with colourfast inks. 
Fairy Parasol
Much attention is given over to the more blowsy flowers - the peonies, roses and the like. But there is elegance in simplicity.
I'm sure tiny woodland sprites shelter from the sun under these delicate umbellifers.
You may have guessed by now that I'm rather prone to flights of whimsy.
Nowt wrong with that, I say.
Photographed by Charlie Budd
at dusk in Oversley Woods, Warwickshire