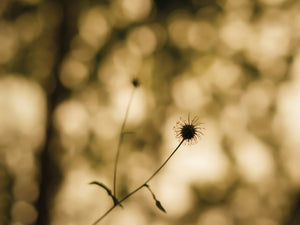 Smoky Colewort - Fine Art Print
Regular price £70.00 Sale
During the pandemic £10 from every print will go to charity.
The current charity is NHS Charities Together. 
This print is available as a striking large canvas or a fine art Giclée print.  
Giclée colourfast print is on gorgeous archival Hahnemuhle Etching textured paper. 
Giclée prints are signed & numbered and come with a 1cm unprinted border for ease of framing. Canvases are signed on the reverse.  
As well as being a photographic story teller, I'm a writer. So each print comes with the following story, printed on A5 Fuji Matt paper with colourfast inks. 
Smoky Colewort
I couldn't remember what this plant was. I asked my gardening chum, blogger, and podcaster Andrew O'Brien. 'It's a Wood Avens, I think.'
I dived into Google, and with Andrew's fine navigational hint I steered myself to Wood Avens, also called Colewort, or Herb Bennet (which rang a bell).
If you love gardening, do look Andrew up on the interwebs. He's a fine photographer, and a superb writer. As with many of my woodland photographs, this was snatched on my way home from work.
I'd quite happily chunter off to a local woodland once a week to see what whimsical views I can capture.
Photographed by Charlie Budd
at dusk in Oversley Woods, Warwickshire