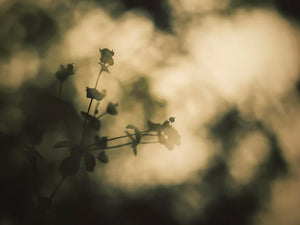 Smoky Euphorbia - Fine Art Print
Regular price £70.00 Sale
During the pandemic £10 from every print will go to charity.
The current charity is NHS Charities Together. 
This print is available as a striking large canvas or a fine art Giclée print.  
Giclée colourfast print is on gorgeous archival Hahnemuhle Etching textured paper. 
Giclée prints are signed & numbered and come with a 1cm unprinted border for ease of framing. Canvases are signed on the reverse.  
As well as being a photographic story teller, I'm a writer. So each print comes with the following story, printed on A5 Fuji Matt paper with colourfast inks. 
Smoky Euphorbia
Some of the most unnecessary advice ever written in the English language (unless you read the Daily Express) was in The Guardian, in a gardening article about Euphorbias: 'Don't get the sap on your willy.' 
The writer had this nether-regional advice on good authority from two women, whose husbands attested to the fiery properties of the milky ooze from the cut plant.
Details were not forthcoming, and I think we may all be glad of that.
As I often do, I took this photo by lying on the damp woodland floor, pointing my lens skywards to catch the dusk light glimmering poetically through the canopy of ash trees above.
I really don't mind getting wet and muddy, for views like this.
Photographed by Charlie Budd
at dusk in Oversley Woods, Warwickshire