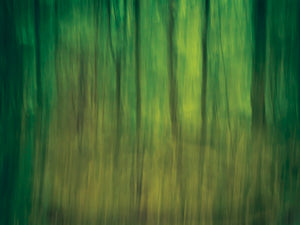 Tiger Woods - Fine Art Print
Regular price £70.00 Sale
During the pandemic £10 from every print will go to charity.
The current charity is NHS Charities Together. 
This print is available as a striking large canvas or a fine art Giclée print.  
Giclée colourfast print is on gorgeous archival Hahnemuhle Etching textured paper. 
Giclée prints are signed & numbered and come with a 1cm unprinted border for ease of framing. Canvases are signed on the reverse.  
As well as being a photographic story teller, I'm a writer. So each print comes with the following story, printed on A5 Fuji Matt paper with colourfast inks. 
Tiger Woods 
Walking back
Through
Green tiger stripes
Of gloaming woodland
Tread carefully
Twigs crack
There are no tigers in England
Are there?
So much of our British woodland has been ripped out over the centuries, to feed our burgeoning population. What remains has been selectively managed by human hand - thus all ancient woodland in this entire sceptred isle is called 'semi-natural'.
It can be difficult to find true wildness in our woodland. But at dusk, when the light fades, and the human-made paths and tree stumps blur and blend into the gloom, then that ancient, magical connection to nature can once again pour through our minds and bodies.
Photographed by Charlie Budd
at dusk in Oversley Woods, Warwickshire