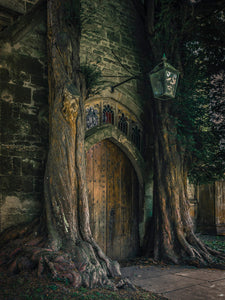 Tolkienian Doorway - Fine Art Print
Regular price £70.00 Sale
During the pandemic £10 from every print will go to charity.
The current charity is NHS Charities Together. 
This print is available as a striking large canvas or a fine art Giclée print.  
Giclée colourfast print is on gorgeous archival Hahnemuhle Etching textured paper. 
Giclée prints are signed & numbered and come with a 1cm unprinted border for ease of framing. Canvases are signed on the reverse.  
As well as being a photographic story teller, I'm a writer. So each print comes with the following story, printed on A5 Fuji Matt paper with colourfast inks. 
Tolkienian Doorway
It is rumoured that JRR Tolkien used this door as inspiration for the entrance to Moria in his little pamphlet 'Lord of the Rings'. It's certainly very similar to his line drawing, and Tolkien used to drink with his brother in a pub in Moreton-in-Marsh, just ten minutes away from this church. Draw your own conclusions, I have.
Imagine, if you will, knocking at the door. It opens with a well-oiled whisper, and the clear, grey eyes of a woodland elf pierce your soul as she says 'Ah, Gandalf, I've just baked some muffins'. I'm sure Tolkien liked muffins. We all do.
In real life, this door is the north entrance to St. Edward's Church in Stow-on-the-Wold. The two resplendent yew trees wouldn't be allowed to be planted so close to a building these days. Building regs and all that.
Photographed by Charlie Budd
in Stow-on-the-Wold, Gloucestershire