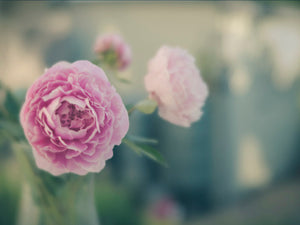 Velvet Peonies Fine Art Print
Regular price £45.00 Sale
Possibly THE party dress of garden flowers.
They probably arrive overnight, in a D-type Jag, calling, 'Daaaarlings, I'm here'.
Probably.
Anyway.
If you frequent the fragrant streets of Instagram, you'll likely see dozens, hundreds, thousands of photos of peonies in the summer.
It can be a bit much.
There's nothing wrong with a smidgen of summer blush, is there?
This photograph was taken with a curious lens called a Lensbaby Velvet, which gives a soft, velvety feel to photographs.
I love it.
It rarely left my camera last summer.
Photographed at home, Stratford upon Avon.
Fine Art Giclée Print on gorgeous textured Hahnemühle German Etching paper.
Available as a standard 12x16" (305x406mm) print, which is what I print for exhibitions, or a 16"x24" (406x309mm) print which makes for a very large statement piece, once mounted.